In Harmony's Way
Saturday, December 20, 2008
a celebration of traditional group singing
Door 7:30 P.M., Music 8:00 P.M. | Purchase advance tickets: $20.50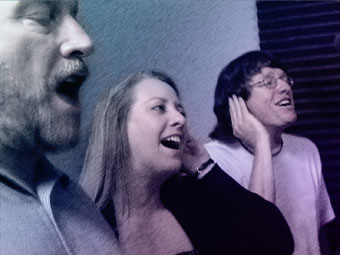 Limber up those vocal chords, it's time to make merry at a sing-along to end all sing-alongs! Tonight's a cappella extravaganza with In Harmony's Way—an amazing lineup of Bay Area folk music stalwarts—dispels the chill of midwinter with a joyous night of musical warmth. Tonight's show features beloved songs old and new, including numbers from In Harmony's Way's self-titled CD, ranging from English drinking songs to sea chanteys to American traditional tunes and back again.

A staggering assemblage of both talent and lung power, In Harmony's Way includes Freight perennials, famed Irish singers Shay and Michael Black, Doug Olsen and Tom Wagner of a cappella trio Oak, Ash & Thorn, fabulous songstress Sylvia Herold (Cats & Jammers and Wake the Dead), Nauticus sea music ensemble member Riggy Rackin, Hyde Street Pier sea chantey king Peter Kasin, folk music veteran and rounds-singer extraordinaire Lani Herrmann, singers of Scottish and English traditional music Allan MacLeod & Dick Holdstock, superb Celtic and Appalachian musician Steve Baughman, beauteous Celtic vocalist and mouth music maestra Pam Swan, Hyde Street Pier singer Richard Adrianowicz, plus Arlene Immerman, Kim Hughes, Ed Silberman, and who knows who else?

Tonight's astounding ensemble of great singers (both on and offstage) promises to set the Freight's rafters ringing with rich folk harmonies and hearty choruses. The more the merrier, so come on down!
Visit the In Harmony's Way website