Denice Franke
Thursday, January 22, 2009
Gulf Coast Blues from one of Texas's finest
Door 7:30 P.M., Music 8:00 P.M. | Purchase advance tickets: $18.50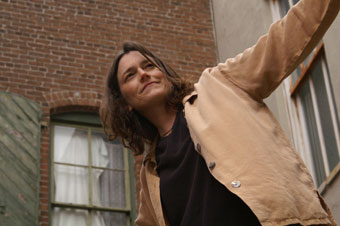 Texas singer-songwriter Denice Franke brings mesmerizing vocals, masterful guitar playing, and a gift for writing tunes that get under the skin to her Freight debut tonight. She also brings a passel of songs from her new CD, Gulf Coast Blue, a collection of beautiful, complex portraits of characters and stories from Denice's home on Galveston Island. Folk, blues, and rock blend to create settings for Denice's compelling musical short stories that balance empathy and danger.

Born in Dallas, Denice made her first major musical splash in the late 1970s, performing at Austin's famed Alamo Hotel Lounge, the haunt of artists like Nanci Griffith and Townes Van Zandt. She's spent most of the years since then as a touring performer, both as a solo act and in a duo with Doug Hudson.

Of her songwriting, Denice says, "Those are the lines—where something is telling, but it's not told. You know from the images what they're saying. They're painting the picture. That's the kind of writer I want to be."

Guitarist extraordinaire, Nina Gerber, accompanies Denice for tonight's performance.
Visit Denice's website