Antje Duvekot
Wednesday, January 28, 2009
fresh poetic palette with an outsider's gifted insight
Chris O'Brien opens

Door 7:30 P.M., Music 8:00 P.M. | Purchase advance tickets: $18.50

Winner of some of the most prestigious awards in the singer-songwriter world, Antje Duvekot (that's "Aunt-ya Doo-va-kot," folks) has received the Grand Prize in the John Lennon Songwriting Competition, the Kerrville Best New Folk Award, and the Boston Music Award for Outstanding Folk Act, all within the past few years. Tonight she brings her refreshing, deeply affecting originals to our stage for an evening of pure melodic poetry, performed with striking directness and an intimate, sensual voice.

Based in Boston, Antje is a compelling sight at music festivals throughout America and in Europe, where she was recently invited to headline the Celtic Connections Festival in Scotland and Denmark's famed Tonder Festival. She just released a new CD, The Near Demise of the Highwire Dancer, following up on the Boston Globe #1 Folk Release of 2006, Big Dream Boulevard.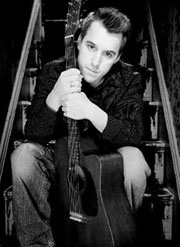 But enough listing of awards! Make sure you're in the audience tonight, and let Antje's eloquent songs speak for themselves. Be warned, though: these are the sort of songs that continue to whisper in the listener's heart long after the show has finished. . .

Boston based singer-songwriter Chris O'Brien opens tonight's show.
Visit Antje's website
Visit Chris's website