Devine's Jug Band
Sunday, January 18, 2009
America's most authentic sounding jug band!
Door 7:30 P.M., Music 8:00 P.M. | Purchase advance tickets: $18.50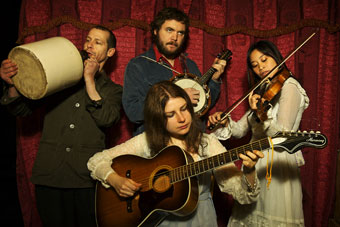 Is there anything on this green earth as fun as a jug band? Unlikely! Come decide for yourself tonight, when Devine's Jug Band travels across the bridge from San Francisco to set our toes a-tappin. Since their Freight debut opening for Nell Robinson & Red Level last October, folks have been clamoring for more of this quartet's authentic yet fresh-sounding take on the upbeat good time music that wowed 'em on Beale Street in the 1920s and '30s

Recreating tunes from classic jug bands like the Mississippi Sheiks, Gus Cannon's Jug Stompers, and the East Texas Serenaders are Mayumi Urgino (fiddle), Meredith Axelrod (guitar, kazoo, vocals), and Jacob Groopman (banjolin), led valiantly on the jug, washboard, cheek-o-phone, kazoo, and vocals by Pete Devine.

This all-star cast has headlined at the 2007 and 2008 San Francisco Jug Band Festivals in Golden Gate Park, as well as performing at the 2008 S.F. Bluegrass & Old Time Music Festival, the Great American Music Hall, and elsewhere. One thing's for sure: wherever they go, they surely leave a trail of grinning faces behind them!
Visit the Devine's Jug Band's MySpace page