High Country
Dix Bruce & Jim Nunally
Wednesday, December 31, 2008
New Year's Eve bluegrass bash
Door 7:30 P.M., Music 8:00 P.M. | Purchase advance tickets: $26.50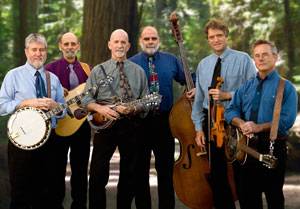 Join traditional favorites High Country and Dix Bruce & Jim Nunally as the Freight welcomes the New Year with our annual bluegrass gala, featuring hot pickin', a fabulous buffet, and silly hats, plus sparkling cranberry-apple juice at the stroke of midnight!

High Country's album, The Earthquake (Strictly Country), firmly reinforced its status as California's premier band in the Bill Monroe and Stanley Brothers tradition, and they recently followed it up with a great retrospective CD, High Country: The First 25 Years. With driving rhythms, deft picking, and soulful singing, High Country is led by Butch Waller, who has seen his own solo mandolin album, Golden Gate Promenade (Rebel), gain acclaim in recent years. The band also features Larry Cohea on banjo, bassist Glenn Dauphin, fiddler Tom Bekeny, Bob Waller on guitar, and Jim Mintun on dobro.


Sharing the entertainment hat with High Country are Dix Bruce & Jim Nunally, a duo in the true down-home style: two soulful voices and two acoustic guitars, mixing folk, bluegrass, and country, spiced with humor, beautiful harmonies, and hot picking. Jim and Dix's latest CD, Brothers at Heart, was nominated for Outstanding Country/Alt Country Album of 2004 by the California Music Awards.
Visit High Country's website
Visit Dix & Jim's website