Mike Marshall & Caterina Lichtenberg
Sunday, December 28, 2008
two mandolin maestros in concert
Door 7:30 P.M., Music 8:00 P.M. | Purchase advance tickets: $20.50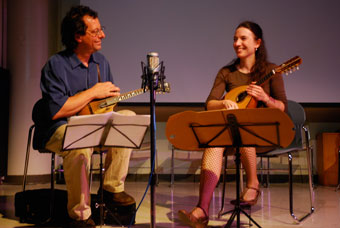 Mandolin maestros Mike Marshall and Caterina Lichtenberg meet on the Freight stage tonight for a high energy border- and genre-hopping show that no fan of strings should miss!

A Bay Area stalwart for the past two decades, Mike Marshall is the leading proponent of an ebullient hybrid of folk-jazz-classical music that explores territory stretching all the way from Brazil through Appalachia to Europe and Africa, by way of Manhattan and the swamps of his native Florida. He first gained acclaim for his groundbreaking "newgrass" work with David Grisman, and more recently founded the Modern Mandolin Quartet and the Brazilian ensemble Choro Famoso. Ever the musical polyglot, Mike's most recent CD is a recording made with his longtime musical partner, Darol Anger, and the Swedish new-traditionalists Väsen in 2007.

The winner of numerous national and international music competitions, praised by the Washington Post for her "stunning virtuosity and kaleidoscopic timbres," Bulgarian mandolin artist Caterina Lichtenberg has performed around the globe. In addition to her prolific duo work with Mirko Schrader as Duetto Giocondo, Caterina plays with folks from the Los Angeles Guitar Quartet to the Dresden Symphony Orchestra.

Mike will be teaching a mandolin workshop on Sunday, December 14, 1:00 - 3:00 P.M. Click here for more information.
Visit Mike's website
Visit Caterina's website