Bill Evans & Megan Lynch
Wednesday, December 10, 2008
w/ Scott Nygaard, Bill Amatneek, and Corey Evans
let's do something CD release concert
Door 7:30 P.M., Music 8:00 P.M. | Purchase advance tickets: $18.50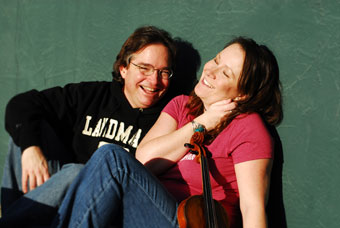 Since teaming up as a duo over a year ago, Bay Area bluegrass mainstays, banjo master Bill Evans & fiery fiddler Megan Lynch have been performing across the United States as well as in the British Isles and Ireland. However, they've saved their Freight debut for a special event: the release of their new CD let's do something!

While virtuosic banjo and fiddle work is only to be expected from these two, it's the outstanding lead singing of Megan and the pair's rich duo vocal sound that is a revelation. Drawing on singer-songwriter and alternative rock sources as much as traditional old-time and bluegrass music, the duo creates music that's intensely intimate and moving. The spotlight tonight is on selections from the new CD, featuring richly textured new takes on compositions from Nick Drake, John Gorka, Mark Knopfler, Van Morrison, and more, along with two new instrumental tunes written by Bill himself.

Banjo arteeste Bill has graced our stage many times over the last 15 years, in concert with everyone from David Grisman and Hazel Dickens to Bluegrass Intentions and his own Bill Evans String Summit. Born and raised in the Bay Area, folks know Nashville resident Megan from her National Championship fiddling credentials and from her performances with Due West, Tony Trischka, Roland White, and Jim Hurst. Joining the duo for this performance is guitarist Scott Nygaard, known for his work with Tim O'Brien, Laurie Lewis, the Webster Sisters, and the Anonymous 4, Bill Amatneek, stellar bass player with many leading groups, including the original David Grisman Quintet, and young percussionist extraordinaire Corey Evans.
Visit Bill & Megan's MySpace page