Tom Russell
Saturday, December 6, 2008
compelling americana, roots performer
Door 7:30 P.M., Music 8:00 P.M. | Purchase advance tickets: $26.50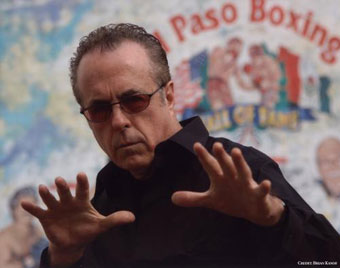 One of America's premier singer-songwriters, Tom Russell grew up in California, soaking up the West Coast hillbilly sounds of Merle Travis and Buck Owens. He started his career in the country bars of Vancouver before moving on to the progressive country music scene of Austin, Texas. (He currently resides on a "badland farm" on the El Paso-Juarez border.) One of the seminal artists of the americana movement, Tom blends country, rock, Tex-Mex, and folk sounds in finely honed character studies that champion blue collar life. He has written and recorded numerous classics, and created many inspired albums, like his Merle Haggard tribute, Tulare Dust, which consistently finds a spot on music writers' Best Albums lists.

An author and painter as well as a superlative songwriter, Tom has seen his songs appear on numerous film and television soundtracks, as well as being covered by other eminent artists from Johnny Cash to Eliza Gilkyson. Tom recently released a DVD, Hearts on the Line, as well as a new CD, The Tom Russell Anthology, a retrospective collection that spans his entire career.

Michael Martin provides this evening's inspired guitar accompaniment.
Visit Tom's website