Dave Ricketts & Rob Reich, Teja Gerken, San Francisco Guitar Quartet
Saturday, November 10, 2007
Guitar Summit
Door 7:30 P.M., Music 8:00 P.M. | Purchase advance tickets: $18.50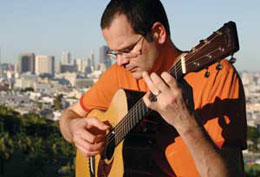 Tonight's inspired guitar summit definitely has something for everyone! Teja Gerken, Dave Ricketts & Rob Reich, and the San Francisco Guitar Quartet offer a multifaceted evening, ranging from lyrical fingerstyle to fabulous classical guitar sets, along with a dynamic gypsy jazz duo: spicy!

Weaving together elements of folk, jazz, classical, and world music into a seamless style that is uniquely his own, Teja Gerken's playing reflects his diverse musical interests.  Many of his compositions employ alternate tunings, two-handed tapping, and percussive effects; others simply rely on his keen sense of melody and movement. Teja's repertoire, while focusing on his fiery originals, is augmented by Irish traditionals, the occasional jazz standard, and improvisations on themes by classical composers.


Dave Ricketts and Rob Reich are a guitar-accordion duo known for their swinging work with San Francisco sextet Gaucho. Dave is also a longtime member of the famed Django Reinhardt amd Stephane Grappelli-inspired Hot Club of San Francisco, and Rob has played accordion and piano with a huge variety of groups around the Bay Area, from klezmer with the Red Hot Chachkas to The Va Va Voom Room's burlesque show.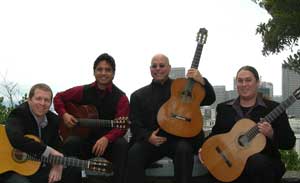 The San Francisco Guitar Quartet performs contemporary and classic works with finesse and flawless technique. Mark Simons, Patrick O'Connell, David Dueñas, and Patrick Francis are all distinctive soloists who break stunning new ground when they play as a foursome. From the infectious rhythms of Brazil to the whirling dances of the Balkans, from the passion of the tango to the hypnotic textures of minimalism, SFGQ approaches chamber music for classical guitar with deference to the guitar's deep roots in the folk and ethnic traditions, bringing musical influences from all over the world into their program.
View a YouTube video of Teja Gerken