Beppe Gambetta w/ David Grisman
Tuesday, February 20, 2007
Italian guitar maestro with America's premier mandolinist
Door 7:30 P.M., Music 8:00 P.M. | Purchase advance tickets: $24.50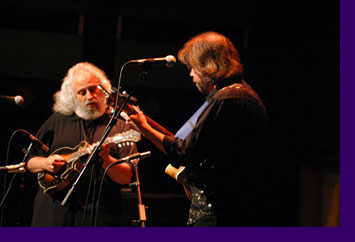 Join us for a meeting of masters when Italian guitar virtuoso Beppe Gambetta and mandolin legend David Grisman take the Freight stage.

Born in Genoa, Italy, Beppe began his musical training in a classical plectrum orchestra before drawing on traditional European and American guitar techniques to develop his own original style. He has spent decades touring Europe and America while rediscovering, teaching, and promoting flatpicking and other great guitar forms.

A brilliant mandolinist famed for forging his own musical path in his own inimitable way, David's "dawg" music is a unique, highly intricate, harmonically advanced hybrid of so many different stylistic influences (swing, bluegrass, Latin, jazz, gypsy) that he had to invent the name for it. In addition to his own renowned groups like Old and In the Way, the David Grisman Quintet, and the David Grisman Bluegrass Experience, David has recorded with everyone from the Grateful Dead to Stephane Grapelli to Bonnie Raitt, and many more.

In 2001, David and Beppe collaborated on the CD Traversata - Italian Music in America(Acoustic Disc), an extraordinary collection of romantic and classical music from Italian and Italian-American string virtuosos, ranging from Puccini to Nino Rota to Rudy Cipolla. The two draw on tunes from this collection, plus many others from their deep repertoires to provide a rich, rewarding evening of beautiful music.
Visit Beppe's website
Visit David's website