Pipers Tionól Concert
Saturday, February 17, 2007
leading Irish bagpipers convene w/ Mickey Dunne, Todd Denman, and Quin
Door 7:30 P.M., Music 8:00 P.M. | Purchase advance tickets: $19.50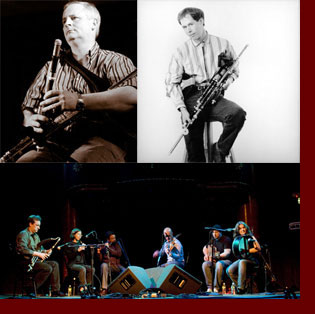 The annual West Coast pipers' tionól ("gathering" in Gaelic) brings together players and fans of of Ireland's haunting, melodious uilleann (bellows) pipes for a three-day musical feast, including tonight's extravaganza concert hosted by Sean Folsom, one of the leading players and historians of the instrument.

A well-known figure in the world of traditional Irish music, Mickey Dunne is a master of the free-flowing "traveller" piping style associated with the legendary Johnny Doran, Finbar Furey, and Paddy Keenan. When he's not busy attending tionóls around the world, Mickey can be found in his hometown in Caherconlish County, Limerick, where he manufactures uilleann pipes and is life president of the Thomond Pipers Club.

With a reputation for fiery, soulful playing and performances that place the uilleann pipes in interesting new musical contexts, Todd Denman says that when he puts the pipes on he feels "like another spirit inhabits my soul; it just plays itself through me." Powerfully spiritual and technically versatile, Todd has accompanied the San Francisco Symphony, Irish music pioneer Mick Moloney, and many others.

Quin, one of the Bay Area's leading Irish bands, includes piper Conall O'Raghaillaigh, plus Kieran Marsden on flute, Michael Stack on fiddle, Doreen O'Reilly on vocals and bodhran, Ted Colton on guitar, and Justine Garvey on whistle.

The national bagpipe of Ireland, uilleann pipes are a parlor instrument distinguished from many other forms of bagpipe by their sweet, haunting tone and wide range of notes.
Visit Mickey's website
Visit Todd's website
For more information about the Pipers Tionól